MLB At Bat '13 released for BlackBerry 10, updated for Android and iOS
2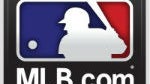 Major League Baseball had promised that the MLB At Bat 2013 app would be ready for
BlackBerry 10 users by Opening Day
, and yesterday that promise was made good. The MLB At Bat 2013 app has been released for BlackBerry 10 and the Android and iOS apps have also been updated. All of the apps should have feature parity.
The update for Android and iOS removes the Spring Training features, and sets up the app for the regular season. It also adds in universal access, so subscribers can use any platform they wish to get the advanced features. So, if you're one of those strange people that happens to have an BlackBerry Z10, a Google Nexus 7, and an Apple iPad, you can finally use the same account on all of them.
The Android version of the app got a couple of extras with re-designed individual team pages, and a new design for the news section. As always, it's $19.99 for the year subscription for the premium features, or $2.99 per month. If you want to grab MLB At Bat '13, it's available for free through the
iTunes App Store
,
Google Play Store
, and
BlackBerry World
.