Lenovo A1000 7" tablet hands-on
1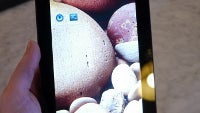 Lenovo came out in full MediaTek swing today, announcing three Android tablets powered with these processors, and the 7" A1000 is the entry level warrior, powered by a 1.2GHz dual-core MTK processor, chewing through the Jelly Bean interface with sufficient decency.
It is a fairly thick slab with quite the bezel surrounding the 7" 1024x600 pixels display, which is not IPS, hence with weak viewing angles. The A1000 has a microSD slot in addition to the 16 GB of internal storage, and two front speakers with surround sound technology.
The Lenovo A1000 feels rather hefty in the hand, but shouldn't break the bank when it arrives in stores globally, including the US, some time in the second quarter of the year.