LG holding launch event on December 1st, LG Nitro to be unleashed?
21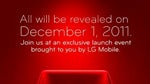 LG is sending out invitations for a major launch event they will be holding on Thursday, December 1st. While the invitation is short on details, the image file contained the name "LG Nitro", which ssuggests we'll be seeing the LG Nitro HD get unveiled next week.
The
Nitro HD
is thought to be an AT&T variant of the
Optimus LTE
, which is already available in Korea. The Nitro HD has starred in a couple
blurry-cam
shots. It will be a dual-core handset shipping with Android 2.3 (Gingerbread) and the now-standard 1GB of RAM. It is rumored to be coming with a 4.5 inch 720p display, which would make it the
first
second phone in the U.S. to beat the pixel density of Apple's iPhone 4/4S display, the first being the
HTC Rezound
.
It is expected to be yet another LTE phone for AT&T, although its generous specs and fast HSDPA+ radio should help it appeal to customers in a wide range of markets, not just the lucky ones that dwell within AT&T's nascent LTE network.
Without an announcement the name could change, and obviously pricing is not yet available, although it seems like a good bet that these details will be revealed in another 9 days. Anyone on AT&T interested in picking one of these up?
source:
Engadget