LG WP7 Giveaway: winner drawing and poll results
14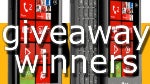 So, December 21 has come, which means it's time for us to pick the lucky few who will win a brand spanking new
LG Quantum
or
LG Optimus 7
!
As you know, we have 2 LG Quantum units, as well as 2 LG Optimus 7 phones to giveaway to our U.S. and European users, respectively, so in the end it would be a total of
4 lucky winners
. The only thing that you guys had to do was to vote in our polls (the answer you have given doesn't matter).
Of slightly over a thousand users that have voted, we will randomly pick 4 people and contact them via their

registered email address

.
*update*: daniellemcmillan and ecml have won LG Quantum. Hiddeveenstra and Sagami have won LG Optimus 7.

But let's also check what the actual results of the polls are:
1.
89.75% of the voters in the first poll have given the correct answer and have chosen the LG Quantum as the only WP7 handset with side-sliding QWERTY in the U.S.;
2.
76.85% have chosen the Optimus 7 as the WP7 device with the highest rated battery;
3.
34.27% of the people who voted in poll 3 have chosen the LG Optimus 7 as the WP7 phone they want in 2011, while 27.65% seem to prefer the Quantum.
Thank you for participating! If you're not among the lucky guys and gals, we wish you better luck next time!