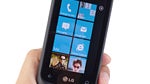 Introduction:
LG Quantum C900
separates itself ever so slightly by being the sole one to sport a landscape style QWERTY keyboard. Since it's priced evenly with the existing crop at $199.99 with a contract, will its keyboard become the driving force to persuade customers to choose it over other offerings?
The package contains:
LG Quantum
microUSB Cable
Wall Charger
Quick Start Guide
3.5mm Stereo Headset
Design:
Even after glancing over the LG Quantum a couple of times, it's quite telling that its design doesn't necessarily take precedence over the alluring look of its brand spanking new mobile platform. Instead, its approach is much too ordinary as it borrows styles featured on previous handsets with its predominantly soft touch coating exterior and accenting metallic rear cover. Upon holding it, there is no hiding the kind of weight (6.21 oz) it's packing as it also looks a bit more bulky (0.60" thick) compared to the streamlined nature of something like the
Motorola DROID 2
. However, its solid construction provides a sense of durability in fending off the adverse affects of normal wear and tear.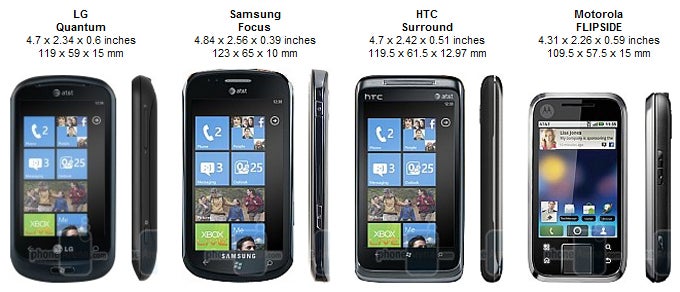 You can compare the LG Quantum with many other phones using our
Size Visualization Tool
.
The LG Quantum employs a brilliant looking
3.5" TFT display
thanks partly to is WVGA (480 x 800) resolution. Essentially, it's able to provide ample visibility with even the tiniest of text, and colors that retain their natural tones in just about every angle. Moreover, the level of responsiveness is accurate enough in registering subtle touches and complex gestures. Though, we're not particularly too content with its brightness output as it still requires being shielded in direct sunlight.
It's near impossible to accidentally press either of the capacitive
buttons
, the back and search keys, because they're spaced so far apart from one another. As for the home button, which is an actual physical one, its placement squarely in the center-bottom is fitting – but it's rather difficult to feel out seeing that it's almost flush to the surface.
We're fairly content with the snappy
opening and closing mechanism
of the handset as it locks firmly into place to expose its
4-row keyboard
. Despite being somewhat flush to the surface, buttons are large enough to make them distinguishable by any finger size. Moreover, the decent tactile response it exhibits manages to enable speed typing without much pause or fault. However, we find it strange that the shift and function buttons, which are recessed and difficult to press, are separated from the rest of the keyboard on the left side.
The microUSB port is hidden behind a plastic flap on the
left side
of the phone, while the thin looking volume rocker and two-level shutter key are placed on the
right side
. Unfortunately, there is some difficulty in distinguishing them and they offer a lacking response when pressed. On the
top edge
, we're greeted to the appropriately placed 3.5mm headset jack and dedicated power button – the latter of which shares the same indistinguishable feel of the other buttons.
Turning over to its
rear
, we find the 5-megapixel auto-focus camera with LED flash in its usual spot, while the speakerphone grill hugs close to the bottom edge. Removing the back cover is accomplished with an effortless yank which will then provide access to the 1,500 mAh battery and SIM card slot.
LG Quantum 360-degree View: