Deal: Save $200 on an LG V30 from Verizon
5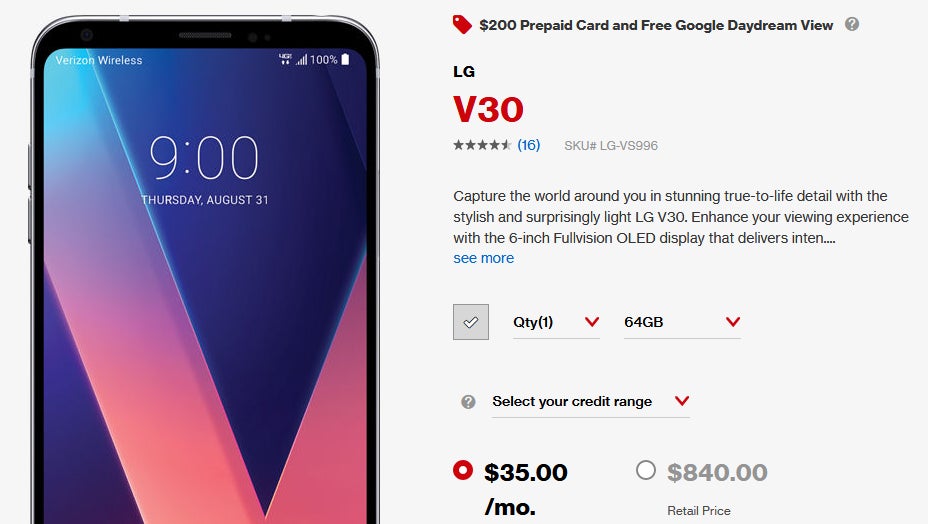 Customers willing to buy the brand new LG V30 from VerizonWireless can save $200 if they're getting the smartphone before November 6. Thedeal does not involve trade-ins, or any unusual requirements. However, savings are not instant, and not exactly in cash. Instead, you will receive$200 on an LG Prepaid Card via mail-in rebate.
As you can see at the first source link below, Verizon isselling the LG V30 for $840 outright, or $35 per month for 24 months. To save$200, you will have to submit a proof of purchase (by November 20) at thesecond source link below. A Google DayDream View headset is also offered with the LG V30, though this isn't a Verizon-specific thing, as all V30 models bought from authorized US sellers come with this free VR headset.
Succeeding last year's V20, the LG V30 brings improvementson all fronts, including in terms of battery life, processing power, and overalldesign (thanks to a 6-inch FullView display, and the fact that LG ditched thatrather weird secondary ticker screen found on previous V-series smartphones). You can take a closer look at the new handset by checking out our LG V30 unboxing, and our LG V30 preview.
sources: LG V30 at Verizon, Promotion details