LG A340 for AT&T combines eco-friendly construction and a $19.99 on-contract price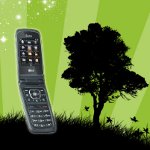 As we slowly creep up upon
Earth Day
, we'll no doubt start seeing some eco-friendly gadgets coming to light, which of course, would be fitting and perfect timing for the holiday. Well folks, we're already seeing one that's on AT&T's lineup right now.
Before diving right in talking about this one, just be aware that this isn't some kind of half-way decent smartphone of some kind, but rather, it's nothing more than a
basic flip phone
at heart. Yes, you read that right, a basic flip phone that's primarily there for quick phone calls between friends and family.
Now that's out of the way, you can pick up eco-friendly the
LG A340
through AT&T right now for the 2-year on contract price of
$19.99
after a $30 mail-in-rebate. Indeed, you can probably find some kind of Android powered device priced the same or lower, but with the A340, you can sleep knowing that it boasts some green-friendly features. In fact, its body is constructed from
17% recycled materials
, and along with its included
energy efficient charger
, you can celebrate Earth Day in style with it.
1.3
-megapixel camera, video recording, GPS, Bluetooth
2.1
, speakerphone, and a WAP browser to get some basic web browsing done. Not digging the neutral color it's flaunting? Well, you can actually swap out its gray casing and simply replace it with something more flavorful, like the pink or black casing, which are both made from recycled materials as well.
source:
AT&T
via
Phonescoop