LCD backlight panel is the latest leaked part from the Apple iPhone 6
34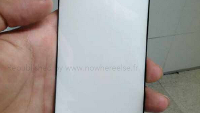 Out of China (via France) comes the latest
Apple iPhone 6
leak. This time, it is the LCD backlight panel that has been photographed. And while there is no way to prove that it is genuine, we should point out that it does resemble the same part used on the
Apple iPhone 5s
. There are some changes of course, with the length and different position of the connector cable proving that the leaked backlight panel did not come from an Apple iPhone 5s, and pawned off as something new.
The leaked LCD backlight panel really doesn't help us determine the resolution on the new model's 4.7 inch screen, which
has been rumored to be 960 x 1704
. That would result in a pixel density of 416ppi for the iPhone 6, the highest such reading in the history of the iconic smartphone. Another report suggests that the new iPhone will feature a resolution of 750 x 1334. As a comparison, the Apple iPhone 5s screen has a resolution of 640 x 1136. There is some talk that Apple is still testing out which resolution to use for its next handset.
You can check out pictures of the leaked LCD backlight panel, including a comparison between the leaked panel and one from an iPhone 5s, by clicking on the slideshow below.
source:
Weibo
(AccountReq'd),
NWE
via
BGR