Kid spends $7,500 on in-game purchases because that's what kids do when you hand them an iPad and unlimited money
22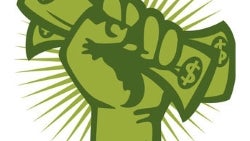 There's lots to be said about the epidemic of children racking up hugh bills due to uncontrolled spending on in-app purchases within mobile games. As with most children, the problem starts with the parents, of course. You don't simply hand over your kid a tablet with a linked credit card and no password protection expecting an unscathed bank balance!
In this particular case, the 11-year old boy spent close to $7500 on virtual items. It took him very little time, too – $875 were gone in 5 minutes, then $1376 in half an hour. And to think there are people out there who literally can't figure out what to spend their cash on! Children sure are amazing teachers.
Apple will be refunding the negligent parents, despite having every right not to. Meanwhile, game developers are evil for
legally
coming up with the most optimal monetization possible for their product. That's not really how the world works, but reason isn't a driving factor behind most of its workings now, is it?
Hopefully, little Alfie will grow a little more respectful of spending after inadvertently causing mom, dad, and a rich multinational company this much headache.
ALSO READ
source:
BBC
via
The Next Web