WSJ: Apple's valuation soared by $144.8 billion during the calendar first quarter
15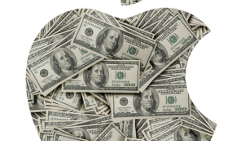 Apple investors are now celebrating the company's best quarter in five years. The three month period expired on Friday, March 31st, and during the quarter Apple's valuation rose by $144.8 billion or 24%. Kicking off the strong buying interest among hedge funds, mutual funds and individual investors was Apple's surprisingly buff fiscal first quarter earnings report which was released on January 31st. The report showed that
Apple had sold a record 78.3 million units of the iPhone
during the three months, thus ending a short streak of year-over-year declines in iPhone sales.
On January 31st, Apple's shares finished the regular trading session at $121.35. The earnings report was released after-hours and the stock surged. The next day, February 1st, Apple's shares soared $7.40 or 6.1% to $128.75. For the rest of the quarter, investors of all sorts called their broker to yell "Buy Apple!" When the quarter ended Friday, Apple closed at $143.66. The earnings report alone helped generate an 18.4% hike during the last two months of the period.
Apple's fiscal first quarter covers the holiday shopping season, which means that it traditionally is the quarter with the most iPhone sales for the year. It also is the first full quarter following the launch of the latest iPhone, which makes the reported figure very important to investors. With the bar set extremely high for the 10th anniversary
Apple iPhone 8
,
which could be unveiled and launched this coming September, the record 78.3 million iPhone handsets sold during the fiscal first quarter of 2017 might be in jeopardy.
With the rally in its shares,
Apple remains the most valuable company in the world
. After Friday's close, Apple's market capitalization (share price multiplied by shares outstanding) is $753.7 billion.

Apple is currently the most valuable company in the world
source:
WSJ
(subscription reqd.),
YCharts