John Malkovich laughs at Siri jokes, asks about the meaning of life in new iPhone ads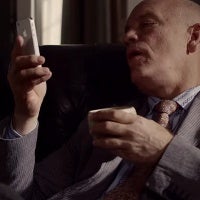 After Zooey Deschanel and Samuel L. Jackson, now John Malkovich is the latest celebrity to feature in an iPhone commercial. This time, it has a more philosophical, laid-back atmosphere with a weary meditative Malkovich asking Siri about the weather and life in general. Of course, the humble virtual assistant is there with the right advice:
"Try and be nice to people, avoid eating fat, read a good book every now and then, get some walking in, and try to live together in peace and harmony with people of all creeds and nations."
The two commercials still feel a bit weird and unnatural to us, though. In the first piece, Malkovich asks for a joke and gets the
"Two iPhones walk into a bar. I forget the rest,"
which he surprisingly finds extremely funny.
In the second one, he goes on to compliment Siri which just seems a bit overblown - now, we too appreciate the information we get from Apple's voice assistant, but it never occurred to us to say to our phones:
"Thank you, I enjoyed this chat immensely, you are very eloquent."
But maybe it's just us. Let us know how you feel about the new iPhone 4S ads in the comments below.
source: Apple