JCB Toughphone lineup takes a stand with three ruggedized phones
1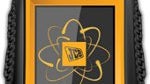 JCB Toughphone is a lineup of ruggedized phones you might have missed, but the handsets that were launched recently deserve some attention as they look ready to pass the test of time with a sturdy build. Well, if you have a fetish for black and yellow, you could get them just for the looks.
The
Tradesman
is the first and cheapest model at a retail price of $115 and it claims to be the world's first floating phone as well. The $180
Sitemaster
is build to withstand a ton of pressure, while the
Pro-talk
is the most expensive of all at $400 and throws in dual SIM functionality, GPS and camera to top the lineup. The Pro-talk acts as a two-way radio when you need it. The
Pro
version is identical to the Pro-talk with the exception of the two-way radio. The phones carry a warranty of 1, 2 and 3 years respectively.
The handsets went on sale in some UK stores, but shipping – of course – is available to the other side of the pond as well. All the devices carry the IP67 toughness rating, which means that they are water resistant and dust proof. If you are in store for a ruggedized handset and don't need the smartphone capabilities of the
Motorola DEFY
, maybe one of the Toughphones could be your alternative.
source:
JCB Phone