Issue 4 of iPad-only mag Project available for free
3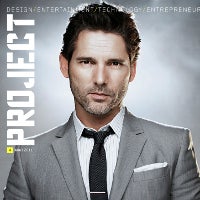 Good news for all of you who want to try out
Project
- the
iPad
-only magazine - and try it out for free. That's because the new issue of Richard Branson's offering is now available in the App Store and it costs... well, not a single cent.
It's not often we feel like we want to thank the guys at American Express, but it seems the right time has come, as the Project folks say this promotion is only happening because of AmEx. Anyway, the really important part is that issue 4 of this mag features Eric Bana on the cover, and you can download it for free from the iTunes link below.
Besides Mr. Bana, here's what else you can expect from this Project issue:
"ERIC BANA! Hollywood's coolest leading man reveals the endless torment of looking this awesome
SLANG! Aziz Ansari presents his audio guide to British patois
LONGEVITY! How to live to 1,000 – from the scientist who knows
REBELLION! Why Africa's Twitter Revolution actually never happened
BERLIN! Willkommen to Germany's ice-cool capital – by city insiders
ILM! Exclusive access to the kings of visual effects, Industrial Light and Magic
LEGO! What it's like to work for the world famous toymaker (spoiler: it's great)
TELEVISION! The must-see foreign shows that everyone – but you – is talking about
EFFIGIES! Are political demonstrators neglecting realism in their mannequins?
VERTIGO! Can the world's highest restaurant put Dubai back on track?"
We see this as a win-win situation for both customers and the mag. For the people working on this project, this is certainly a good way to attract potential customers and show what they have to offer. For customers it's great that they can try out this magazine for free. The previous three issues of Project costed $2.99 each.
source:
iTunes
and
Project
via
Gizmodo