Is this teaser for the Samsung Galaxy Tab 2 genuine?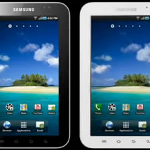 With expectations high that Samsung will be showing off the sequel to its hugely successful Galaxy Tab at the MWC next month in Barcelona, OLED-DISPLAY.NET claims that it has found an official teaser that has been released, showing the Samsung Galaxy Tab 2 (more on that below). A list of rumored specs show that the tablet will launch with Android
2.3
and be upgraded after launch to Honeycomb 3.0. Following the upgrade, the 7 inch Super AMOLED display will have 3D viewing capabilities. The Monster Resolution weighs in at 2048 x 1200 and not only will the screen be sharp, it will be strong as well since it will be made from Gorilla Glass.
Remember when a 3MP camera was a big deal on a smartphone? The Samsung Galaxy Tab 2 is expected to have a 3MP front facing camera with an 8MP shooter in the back that will record HD video (1080p) and offers dual flash. 64GB of internal memory are supposedly on board along with more than 1GB of RAM. A microSD slot will expand storage by as much as an additional 32GB.
Sounds great, but according to OLED-DISPLAY.net, with the new Samsung Oled plant not expected up until June, and with the Korean based manufacturer able to pump out only so many Super AMOLED screens, the Galaxy Tab 2 might have to settle for an LCD screen. Additionally, at CES, Samsung displayed a 7 inch AMOLED display with resolution of 1200 x 600 which falls short of what is expected on the sequel.
Click on the video below to view the teaser. Some are questioning the authenticity of the video. Your opinion is welcome by adding your comments to the box below.
source:
OLED-DISPLAY
via
AndroidCentral