Intuit GoPayment for AT&T processes credit card payments right there on your smartphone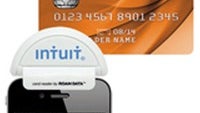 With the volume of mobile payments expected to skyrocket over the following years, it is not surprising that more and more companies are trying to grab a piece of the pie. Well, the steadily growing list includes AT&T now, which has partnered with Intuit in delivering a solution of its own to the U.S. market.
The newly-introduced
Intuit GoPayment for AT&T
is a mobile payment system tailored with small business owners in mind. It allows for easy processing of credit and debit card payments on the go by using a smartphone and a portable Bluetooth card reader.
Here is how the magic happens: first you fire up the GoPayment app on your smartphone and log in. The next step is entering the amount, after which you swipe your customer's card through the reader and let them approve the payment by signing on the device's display. That's it! The transaction confirmation will be sent in a matter of seconds, and an invoice can be sent straight to your customer's email inbox, shoud it be required. Those concerned about their personal data will be pleased to know that the communication is encrypted and no private information is stored in the phone or tablet's memory.
Intuit GoPayment for AT&T works on a wide range of BlackBerry and Android devices, as well as on both the iPhone and the iPad. Subscribers for the service are charged 2.7% of the value of each swiped transaction, but should they process payments totaling over $1000 per month, the rate can be dropped down to 1.7% in exchange for a $12.95 monthly fee. Neither a cancellation nor a per-transaction fees apply, and the Bluetooth credit card reader comes for free when you sign up. Interested? Below is a video of Intuit GoPayment for AT&T in action so feel free to check it out.