In-app billing now live on Android Market
5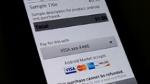 In-app billing has begun on the Android Market. So, if you need that special gun, or ammunition to improve your game-play, certain games will allow you to make a credit-card purchase to upgrade without having to head back to the Android Market, right while you have the game open on your phone. At the same time, developers can start building the feature into their current or new apps. Right now, games like Tap, Tap Revenge, Comics, Gun Bros, Deer Hunter Challenge HD, WSOP:3 and Dungeon Defenders: FW Deluxe will accept your credit card for an in-app purchase.
For developers, offering in-app billing allows you to make such purchasing a more streamlined event for buyers. The easier the transaction, the better the chance that a buyer will make a purchase. More purchases means more money in the pocket of the developer. Say you want that amazing 17th Century sword for your character so you can slice the head off the green meanie. Instead of exiting the game, heading over to the Android Market and paying for the sword, with in-app billing you can stay in the game and make the purchase.
For more information on making an in-app purchase, click on the source link.
source:
AndroidDevelopers
via
Engadget
Recommended Stories