If the Moto Z Style/Z Play StyleMods end up substituting MotoMaker, would they be worth it?
2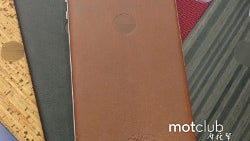 On June 9th, Lenovo Tech World will take place at the Masonic in San Francisco. As a daughter company, Motorola is expected to also attend and even announce two new, high-end smartphones: the Moto Z Style and Moto Z Play. Apart from being evolutionary upgrades over their predecessors, rumor on the street is that Motorola will use them to kick into action its own 'modular' strategy.
Unlike Google's highly advanced Project Ara or LG's snap-on add-ons, however, Motorola will utilize over a dozen of magnetic connectors on the back of the new devices. Those will make contact with various case-like modules that are said to include a Hasselblad camera-centric one, and perhaps even a JBL-branded loudspeaker. That's the word on the vine, anyway.
In addition to these, and to get to the point of this poll, Motorola will also supposedly make various StyleMods available for the Z Style and Z Play. As hinted by the name, these cases will help bring some extra style to the duo and will apparently come in leather, ballistic nylon, and wood, etc. If we take this particular rumor for granted, it raises a rather important question: Will StyleMods come at the expense of MotoMaker? And if they do, would you say they're worth it?
Recommended Stories