Ice, Ice Baby: U.S. Immigration and Customs Enforcement agency to test BlackBerry 10 next year
20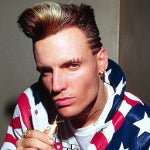 While Vanilla Ice isn't poised for a comeback, BlackBerry is.RIM's shares continued to rise on Wednesday, setting a
7 month high
at $13.31 for a 5.63% gain on the day. Meanwhile a RIM spokesman had some good news for RIM investors when he said that the U.S.Immigration and Customs Enforcement agency (ICE) will be testing the new BlackBerry 10 platform. What makes this interesting is that
ICE had originally announced that it was switching from BlackBerry phones for its employees to the Apple iPhone
. That decision made back in October, affected 17,600 employees and was said to be worth $2.1 million in new handset orders for Apple. At the time, an ICE spokesman said that BlackBerry smartphones "
no longer meet the mobile technology needs of the agency
."
pilot program
using the new BlackBerry 10 handsets and the BlackBerry Enterprise Server 10. The latter lets government users and corporations run new devices on their networks. Major corporations and government agencies have been loathe to switch from BlackBerry to other platforms because of the security inherent on BlackBerry devices. But others felt that the Apple iPhone and Android handsets offered a much better user experience with many more features than BlackBerry. RIM says the new devices will still have the same great security in addition to running smoother and faster than currently available BlackBerry models.
It is unknown what ICE intends to do with this pilot program. There is some speculation that it will use BES 10 to manage both BlackBerry 10 and Apple iPhone handsets. Meanwhile, the rally in RIM's stock on Wednesday occurred when long time bear Eric Jackson (the founder of Ironfire Capital), reversed his position and became bullish on the stock, forcing some short-covering.
source:
Reuters