IDC: Samsung topped Apple in smart connected device shipments for 2012
26
The term "smart connected devices" refers to desktop and portable PCs, smartphones and tablets. And as you might expect, the battle for control of this market is a two-company war between Samsung and Apple. The Korean tech titan was on top for 2012 thanks to an
119.3%
year-over-year increase in sales of these devices. That resulted in Samsung shipping 250 million smart connected devices last year which topped the 218.7 million units shipped by Apple in 2012. For the Cupertino based giant, that was a 44.3% year-over-year gain. In terms of market share, Samsung had 20.8% of the market compared with the 18.2% controlled by Apple.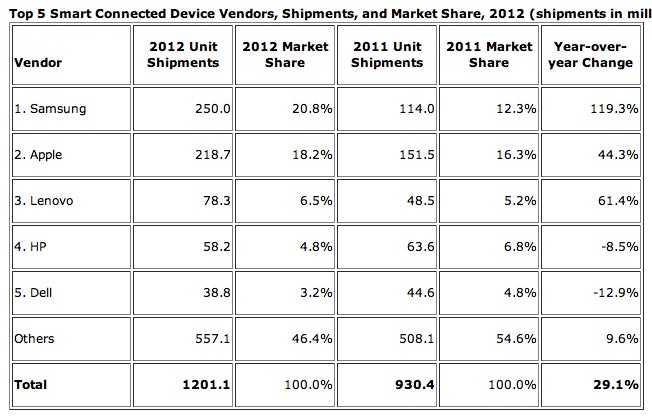 Samsung and Apple slug it out again
Considering that the definition of smart connected devices includes computers, it might not be terribly surprising that Chinese manufacturer Lenovo was third. But there was a big fall-off between the number of devices shipped by second place Apple and third place Lenovo. The latter shipped 78.3 million units last year, a gain of 61.4% on an annual basis. But not all companies enjoyed annual growth. HP and Dell were fourth and fifth respectively in smart connected device shipments, and had year-over-year declines of 8.5% and 12.9% respectively. HP shipped 58.2 million smart connected devices in 2012 and Dell shipped 38.8 million units.
Overall, 1.2 billion smart connected devices were shipped in 2012, a gain of 29.1% from 2011. As for Samsung and Apple, the former was led by strong smartphone sales (
Samsung Galaxy S III
,
Samsung GALAXY Note II
) while Apple was led by sales of its tablets like the
Apple iPad mini
and the
third and
fourth-generation Apple iPad models
.
source:
AllThingsD