Huawei P8 blueprint reveals super-slim design, fingerprint scanner?
8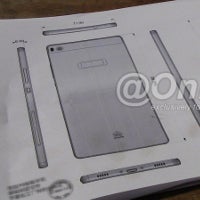 In a little over 20 days from now, on April 15th, Huawei is set to hold an event in London – one that is expected to finally bring an end to the steadily increasing stream of Huawei P8 rumors, and show us the real thing. With the unveiling closing in on us, it's not surprising to see the rumor mill churn out more and more relevant leaks, and today we mark another one – a supposed blueprint of the P8.
The drawings, if legit, give us quite a bit of insight into Huawei's upcoming flagship device. For starters, they confirm that the latest slew of design images that have cropped up all over the internet are seemingly authentic – the bottom side, especially, is identical to what we've already seen. But that's hardly all that can be gleaned from the blueprints.
Indeed, we now finally have an exact measurement for the P8's body – 5.7 x 2.83 x 0.26 in (144.9 x 71.9 x 6.6 mm) versus 5.50 x 2.71 x 0.26 in (139.8 x 68.8 x 6.5 mm) for its predecessor, the 5-inch Huawei Ascend P7. This makes the P8 taller, wider, and even slightly fatter, despite previous rumors suggesting that it'll come in an even slimmer body. The growth in size seems to be in agreement with another sliver of intel – the new flagship will have a larger, 5.2-inch display.
Another point of interest is the rectangular cut-out on the back of the P8. Obviously, our first guess is that Huawei has a fingerprint scanner on its mind – the Ascend Mate7 has a truly excellent one – but its peculiar shape has us uncertain. According to the source, the space
could
be used as some sort of touch pad, though that's obviously just speculation.