Huawei Mate 10 vs Galaxy Note 8 vs LG V30: Specs comparison
4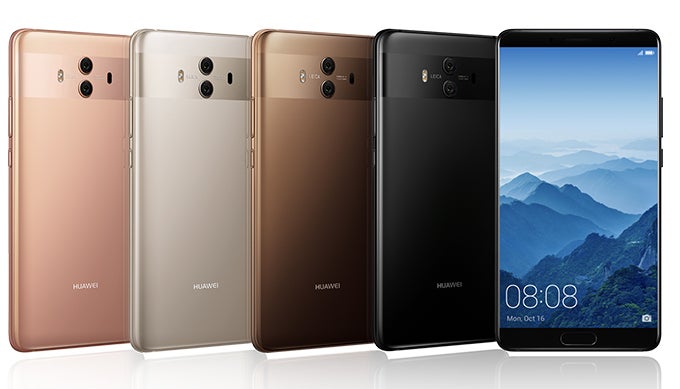 So, the Mate 10 is here, but is it going to take the crown of the Android space?

Surely, with a large 5.9-inch display, a snappy octa-core Kirin 970 chipset, and a hefty 4,000mAh battery at the rear, the Mate 10 is easily Huawei's true flagship device of 2017.
But is that enough to make it a viable alternative to the top dogs on the Android scene right now, the S Pen-boasting Galaxy Note 8 productivity powerhouse and LG's multimedia-centric V30 behemoth?
Only one way to find out:
Super AMOLED
P-OLED
IPS LCD
HDR support, Scratch-resistant glass, Ambient light sensor, Proximity sensor
HDR support, Oleophobic coating, Scratch-resistant glass, Ambient light sensor, Proximity sensor
HDR support, Scratch-resistant glass, Ambient light sensor, Proximity sensor
Qualcomm Snapdragon 835 MSM8998 (10 nm)
Qualcomm Snapdragon 835 MSM8998 (10 nm)
HiSilicon Kirin 970 (10 nm)
Octa-core, 2350 MHz, Kryo 280, 64-bit
Octa-core, 2450 MHz, Kryo 280, 64-bit
Octa-core, 2360 MHz, ARM Cortex-A73 and ARM Cortex-A53, 64-bit
Adreno 540
Adreno 540
Mali-G72 MP12
Android (8.0 Oreo, 7.1 Nougat), Samsung Experience UI
Android (9.0 Pie, 8.0 Oreo, 7.1 Nougat), LG UX UI
Android (10, 9.0 Pie, 8.0 Oreo), Huawei Emotion UI
Qualcomm Quick Charge 2.0
Qualcomm Quick Charge 3.0
Fast charging
22.00 hours
the

average

is 11 h (660 min)
16.50 hours
the

average

is 11 h (660 min)
23.00 hours
the

average

is 11 h (660 min)
21.0 days (505 hours)
the

average

is 29 days (688 h)
25.00 hours
the

average

is 0 h (0 min)
15.2 days (365 hours)
the

average

is 20 days (472 h)
3G: 12 hours; LTE: 13 hours; Wi-Fi: 14 hours
Dual camera
Dual camera
Dual camera
16 MP (OIS, Laser and PDAF)
12 MP (OIS, Laser and PDAF, CMOS image sensor, BSI sensor)
Aperture size: F1.7; Focal length: 26 mm; Sensor size: 1/2.55"; Pixel size: 1.4 μm
Aperture size: F1.6; Focal length: 30 mm; Sensor size: 1/3.09"; Pixel size: 1 μm
Aperture size: F1.6; Focal length: 27 mm; Sensor size: 1/2.9"; Pixel size: 1.25 μm
12 MP (Telephoto, OIS, Autofocus)
13 MP (Ultra-wide)
20 MP (Black and White, OIS, Laser and PDAF, CMOS image sensor, BSI sensor)
Optical zoom: 2.0x; Aperture size: F2.4; Focal Length: 52 mm; Pixel size: 1 μm
Aperture size: F1.9; Focal Length: 12 mm; Sensor size: 1/3.4"; Pixel size: 1 μm
Aperture size: F1.6; Focal Length: 27 mm; Sensor size: 1/2.7"; Pixel size: 1 μm
3840x2160 (4K UHD) (30 fps), 1920x1080 (Full HD) (60 fps), 1280x720 (HD) (240 fps)
3840x2160 (4K UHD) (30 fps), 1920x1080 (Full HD), 1280x720 (HD) (240 fps)
3840x2160 (4K UHD) (30 fps), 1920x1080 (Full HD) (60 fps), 1280x720 (HD)
Time-lapse video, Hyperlapse, Continuous autofocus, Object tracking, Picture-taking during video recording, Video light, EIS, Video calling, Video sharing
HDR, Time-lapse video, Continuous autofocus, Object tracking, EIS, Video calling, Video sharing
Time-lapse video, Continuous autofocus, Object tracking, Picture-taking during video recording, Video light, EIS, Video calling, Video sharing
8 MP
5 MP
8 MP
1920x1080 (Full HD)
1920x1080 (Full HD) (30 fps)
6.40 x 2.94 x 0.34 inches (162.5 x 74.8 x 8.6 mm)
5.97 x 2.97 x 0.29 inches (151.7 x 75.4 x 7.39 mm)
5.93 x 3.06 x 0.32 inches (150.5 x 77.8 x 8.2 mm)
6.88 oz (195.0 g)
the

average

is 6 oz (171 g)
5.57 oz (158.0 g)
the

average

is 6 oz (171 g)
6.56 oz (186.0 g)
the

average

is 6 oz (171 g)
Back: Glass (Corning Gorilla Glass 5); Frame: Aluminum
Back: Glass (Corning Gorilla Glass 5); Frame: Aluminum
Back: Glass; Frame: Metal
Water, Dust; IP68
Water, Dust, Shock; IP68; MIL-STD-810 certified
Splash, Dust; IP53
Iris scanner, 2D Face unlock, Fingerprint (touch)
2D Face unlock, Fingerprint (touch)
2D Face unlock, Fingerprint (touch)
Notification light, Stylus
Notification light