Huawei Ascend Mate 2 4G hands-on
2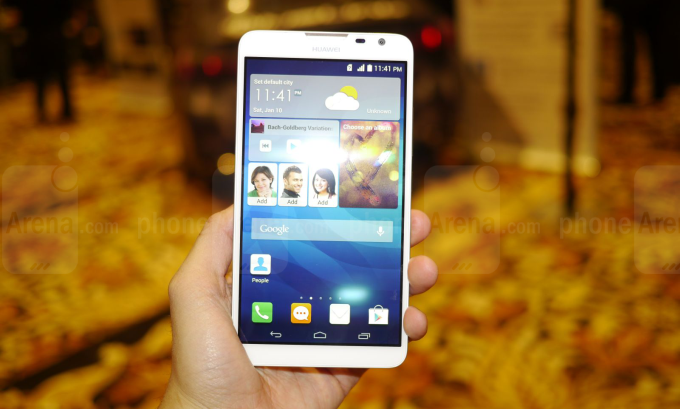 Among other things, CES2014 saw the unveiling of Chinese Huawei's Ascend Mate 2 4G -- the follow-up to its original Ascend Mate phablet. As the name suggests, the massive 6.1-inch device will tout 4G LTE connectivity, and this is actually a big deal for Huawei for two reasons. First, this is its first 4G LTE-enabled device, and second -- it has managed to integrate a 4G radio onto one of its own, in-house chipsets, which is a big step for the manufacturer. Better yet, a 4G-enabled device should prove of interest to those of us in the US, which is, accidentally, where Huawei has hinted the device is headed for next.
Design
Design-wise, the Ascend Mate 2 reminds us a whole lot of an improved, streamlined LG G Pro. The facade of the phone is housing the 6.1-inch display almost exclusively, with little bezel to spare, which does help a whole lot with the handling of the phone. At the rear, we found a glossy white plastic back which is a pity -- we much preferred the matte finish of the original Ascend Mate, as it was more pleasant to the touch, less prone to fingerprints, and less-plasticky looking. Speaking of plastic, we're reminded of the metal frame imitation, surrounding the profile of the Mate 2 -- it looks nice, but fools nobody. In all honesty, however, we're expecting this to arrive as a budget-friendly solution, so we're overall pretty happy with the way the Huawei Ascend Mate 2 turned out, and are especially grateful for the size savings.
Display
In case this wasn't obvious enough, the 6.1-inch screen is the main attraction with the Mate 2. Unlike last year's model, Huawei has gone for an LTPS panel, instead of an IPS LCD one, though the resolution has been kept at 720x1280 pixels, or 240ppi. We must be turning into spoiled brats, for our initial reaction was that of disappointment -- after all, 1080p panels
have
become quite common. Luckily, after we played around with the device a bit, we found no obvious loss of detail -- the 720p panel was perfectly adequate.
Interface
The latest major release of Jelly Bean -- Android 4.3 -- is what we found installed on the Ascend Mate 2. As has become typical, the manufacturer has seen fit to meddle with the code of Google's OS, the result of which is EmotionUI. It's a widget-heavy interface, with quite some tweaks and aces up its sleeve, though it's not entirely alien to the simplicity of stock Android. Extra functionality, such as Simple UI, will come in handy for those among us that are still new to Android, as it's... well, quite simplistic. Simple UI aggregates the most essential functionality of Android onto several screens, with a whole bunch of WP8-esque tiles in sight.
As always, warming up to EmotionUI is entirely predicated upon personal taste.
Processor and memory
The Ascend Mate 2 comes in two distinct versions, depending on the market. The first one is aimed at the local market, China, and is powered by Huawei's new in-house, 1.6GHz quad-core chip, based on four efficient ARM Cortex-A7 cores. As already mentioned, this chip is 4G LTE-enabled, so it'll make use of the country's upcoming, next-gen network. The second version is aimed at the global market, which explains the choice of the LTE-capable, 1.6GHz quad-core Qualcomm Snapdragon 400 MSM8928 chipset, with an Adreno 305 GPU.
On the matter of memory, we're looking at 2GB of RAM and 16GB of built-in storage with an option for an microSD card.
Camera
The Huawei Ascend Mate 2 sports a 13-megapixel Sony-made BSI rear shooter with an LED flash. We're also told that this is a second-gen Sony unit, so we're likely talking about an Exmor RS sensor alongside a wide F/2.0 aperture. Up at the front, we have a generous 5-megapixel snapper with an F/2.4 aperture and 1.4-micron pixels. These both sound pretty awesome on paper, though we won't know how well they translate into a real-world scenario for a while.
Expectations
If the Huawei Ascend Mate 2 is priced as competitively as its predecessor, we expect the company to manage to move quite a few units. This is especially true, seeing as US availability has been hinted as a real possibility, and there's definitely a glut for big-screened, 4G LTE-enabled devices stateside. What's more, we expect the traditionally phablet-loving crowd in Asia to go bananas for Huawei's latest, even though it's no longer the world's biggest smartphone.