How to unlock your Galaxy Note II and some Galaxy S III versions for free (Jelly Bean req'd)
24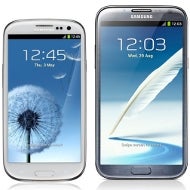 Samsung seems to have a hidden menu in its Galaxy line, which allows you to carrier unlock your device for free, and appeared on an XDA-Devs thread submitted by user owl74.
It is confirmed working at least with the two most prominent members of the Galaxy family this year - the
Galaxy S III
(but only some versions), and the trendy
Galaxy Note II
.
Your phone has to be running Android 4.1 Jelly Bean and above for the trick to work, though, and you can follow the steps below with the usual "do at your own risk" warning:
1. Enter the following into the dialler:
*#197328640#
2. From the menu that appears choose
Main Menu > [1] UMTS > [1] Debug Screen > [8] Phone Control > [6] Network Lock > Options [3]Perso SHA256 OFF > (after choosing this option, wait about 30 seconds, then go back one step by pressing the Menu button then select Back, now you are in [6] Network Lock then choose [4] NW Lock NV Data INITIALLIZ ..... wait for a minute then reboot your phone... enjoy!!! There is no confirmation on the phone that the unlock was successfull.... just reboot your phone....
Read the thread for which S III versions were successfully unlocked with this hidden menu function of Samsung, and try it out with a SIM card from another carrier to confirm.
Users say the unlock is permanent and works even after full reset of your device, so you don't have to pony up for a carrier unlock, or use murky codes from eBay.