Here's how eligible Verizon subscribers can claim one free year of Disney+
6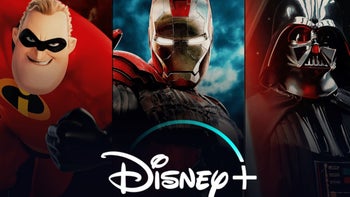 Many Verizon customers are very excited. Starting tomorrow and running through June 1st, 2020 those subscribed to any of Big Red's unlimited data plans
will be able to stream Disney+ for one-year at no cost
. With content from Disney, Pixar, Marvel, Star Wars and National Geographic, the service is priced at $6.99 a month or $69.99 for 12 months. If you're a Verizon unlimited customer and have already pre-ordered 12 months of Disney+, your pre-order will be suspended while the free-year from Verizon is active. If you pre-ordered a month of service, Disney will send you an email explaining what to do to manage your subscription.
UPDATE:
If you're a Verizon customer, the fastest way to activate your free year of Disney+ is to open the My Verizon app. Go to Account > Add-Ons and swipe to the entertainment tab. Follow the prompts
.
You will eventually be asked to create a password for the Disney+ app. When you are done, go to the App Store or Google Play Store to install the Disney+ app and sign in using the email address and password you registered with Verizon.

So let's say that you are eligible to receive a free-year of Disney+. This is how you claim it. First, make sure that the person who manages your Verizon account (like your spouse or parent) has the My Verizon app on their phone or Verizon-connected tablet. If not, it can be downloaded from
the App Store
for iOS users and from
the Google Play Store
for those with an Android device. Or, you can go online to
this web page
. You should see on the home page (starting tomorrow, November 12th) an offer that reads "Disney+ on us." If you don't see it after signing in to the app or the website, it means that you are not eligible to receive the deal.
Each Disney subscription allows 10 devices to access the service with any four streaming online at one time
If you see the offer, click on it and agree to the terms and conditions. You'll be given some prompts to follow in order to activate your free Disney+ subscription. After the 12 months free subscription expires, you'll automatically be charged $6.99 per month on your Verizon bill for a paid subscription. Of course, that can be avoided by canceling the service before it expires. That can be done using the My Verizon app by opening it and tapping on Account, and scrolling to Add-ons to manage or cancel the subscription. From the website, go to
Products & Apps
>
Manage My Products
. Scroll to Disney+ and choose
Cancel my subscription
.
Each account can have up to ten different devices registered with Disney+ with any four accessing the service at the same time. The ten registered devices are allowed to have unlimited downloads so that even when offline, Disney+ streams can be viewed by users.

Among the original shows that can be streamed on Disney+:
High School Musical The Series
Monsters At Work
Star Wars The Clone Wars
Marvel's Hero Project
Lady and the Tramp
Because Disney purchased 21st Century Fox in a deal that closed earlier this year, Disney+ also includes all 665 episodes of The Simpsons. Also, new episodes are being made of some old Disney Channel favorites like Lizzy McGuire with Hilary Duff returning to the role that made her famous. And that never-ending love affair between Kermit and Miss Piggy continues on a show called
Muppets Now
.
A report from venture capital firm Loup Ventures noted that the old classic movies and animated titles from the so-called Disney Vault won't be necessarily driving subscription growth. After all, how many times can someone view
The Lion King
? The report said that it will be the newer shows starring familiar characters that will attract Disney fans anxious to see what new antics their favorite characters are up to.
Interestingly, Disney+ is actually priced at a bargain compared to the streaming giant it is competing against, Netflix. For those of you who have ever visited a Disney theme park, you know that competing on price is usually something that Disney does not do. Compared to the $6.99 per month that Disney+ costs, a similar Netflix plan costs $15.99 per month.