Here's the world's first iPhone 5 owner
69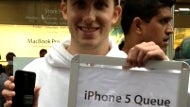 Queuing for the newest iPhone has become more of a marketing stunt than anything else, given that a lot of the first in line are people who are there for promotional consideration, rather than die-hard Apple fans, and it is indeed the case with the first iPhone 5, received by Aussie Todd Foot.
Camping in front of the flagship Apple Store in Sydney since Tuesday, Todd has managed to become the first person to grab an iPhone 5, yet he has actually been sent there by a mobile phone comparison site that is using the event for marketing.
They even connected with other first-liners around the world, listing their names and the reasons for queuing, and about half of them said they are either doing it for a cause, or to promote something. The first guy in Ginza, Japan is even livestreaming his life around the iPhone 5 line. In any case, the first iPhone 5 sold in an Apple Store is now up for grabs in a raffle.