Here's our clearest look at the upcoming Meizu PRO 7 & PRO 7 Plus, thanks to the Chinese FCC
5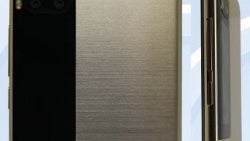 If you have been following PhoneArena as of late, you know pretty well what the Meizu PRO 7 and PRO 7 Plus look like. But just in case you didn't, or had some lingering doubts about this upcoming Chinese handset and its peculiar secondary display, let these clear, 100% blurry-cam free images of it and its Plus version take care of that.
Ahead of its July 26 announcement, the Meizu PRO 7 and its Plus-sized compatriot appeared on TENAA (China's telecommunications authority)'s website. The clear images give us the best look at the handsets yet, though they don't show anything that we haven't seen before.
Non-traditional as the full-color secondary display is, the smartphone's design appears dated, due to the large top and bottom bezels. Speaking of size, the Meizu PRO 7 will have a 5.2-inch screen, while the PRO 7 Plus will get a 5.7-inch display. There will be a difference in display resolution – the PRO 7 will get a 1080 x 1920 screen, and the PRO 7 Plus will get a 1440 x 2560 one.
Other rumored specifications include MediaTek processors (likely the Helio X30 64-bit, deca-core chipset), dual 12MP cameras on the back, and a 16MP front camera. As for the debated secondary display, it's able to mirror pretty much everything that's going on on the main display. It is also capable of playing simple
games like Pac-Man
, showing notifications, weather alerts, and other useful information.
Check out the images in the gallery below, and head to the links for more information about Meizu's upcoming flagship.


ALSO READ