Here's how to customize the LG G3's on-screen navigation buttons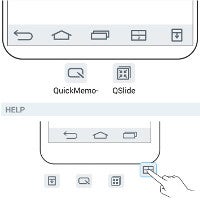 If you're sporting a brand new LG G3, or considering purchasing one, then you'll likely know of the relatively impressive amount of customization options it brings to the table. One such,
which we highlighted last week
, is the ability to basically force the so-called immersive mode (hides software navigation keys) on a per-app basis.
But there's more you can do when it comes to the often disliked software navigation buttons. In fact, LG is letting you customize those by switching their places, and even adding additional ones that provide shortcuts for a few major actions and features.
For example, seeing as the G3 is not at all a small phone, most of us (read: people without basketballer hands) have to exert quite some effort in order to get to the rather essential, pull-down notification bar. Thankfully, one of the buttons that LG allows you to add does exactly that -- pull down said bar -- saving you a lot of effort. Moreover, you can add shortcuts for Dual window (allows you to run two apps side by side), along with QuickMemo and QSlide (creates mini versions of essential apps, such as E-mail, Calculator, Calendar, etc). Lastly, you can also change the color of the background for software keys. We've found that the default, "White" color option suits us best, but some of you may not necessarily agree.
Here's how to customize all of that.