Have you ever used your phone as a flashlight?
44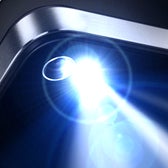 It's dark, and you have to both cross one unlit passageway on a first date, deal with that hypothetical. Why, you take out your phone, flick a finger, and the LED light on the back turns on, or your screen shines in white, illuminating the road ahead. You immediately become a hero, which leads to a second date, which leads to, well, you know.
We kid, but being able to use your phone as a light source of last resort can probably save the day more than a few times in many dozens of scenarios. Flashlight apps are one of the most abundant categories over at the Play Store, coming in many shapes, forms, and ingenious ways to turn the LED flash or screen on as your bright guiding lights. Some manufacturers are now even embedding the flashlight switch functionality directly into the status bar or even the lock screen, so you can access the illumination capabilities of your handsets as fast as possible.
That is why we were curious to learn if you have ever used your phone as a flashlight, regardless of whether it's been a built-in one, like on some Nokia featurephones, via the screen being illuminated in white at full brightness, or simply firing up the LED flash in the way you would use it as a video light. Have your say in the poll below, and tell us what called for these dire situations.