Hands-on with the AT&T Palm Centro
0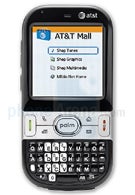 Back in October, we came away quite impressed with Sprint's, and AT&T is hoping to capitalize on its success with its GSMvariant.There isn't much different withAT&T's offering, the CDMA radio has been swapped out with a quad-band GSMone, but its diminutive dimensions remain the same.AT&T has added an eye-pleasing skin to the phone portion, and thereare some software differences such as MobiTV instead of Sprint TV, but theunderlying operating system is the same tried-and-true Palm OS.Other key features include a 1.3-megapixelcamera, microSD expansion slot and a full QWERTY keyboard.

Palm Centro GSM Specifications.

Check back soon for our AT&T Palm Centro review!