Hands-on with Eten M810
5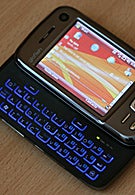 Meet
Eten M810
. This is one of the latest models of the Taiwanese manufacturer. The phone is equipped with a side-sliding full QWERTY keyboard and targets a large audience including bloggers, chatters and video makers, in the market for a smartphone with extended functionality, provided by a Windows Mobile 6 OS.
The new entry employs hardware similar to the one used in the previous models: 500 МHz Samsung CPU and 64 RAM. It also has a few connectivity options, including built-in WiFi, Bluetooth and tri-band 3G UMTS/HSDPA support. In addition, you will be able to easily navigate through the city jungle, using the GPS.
Looking modern and attractive, М810 has the same design language as V900. The rounded edges and the glossy front surface contribute for the good looks of the new Eten. In contrast to the majority of the new models of the manufacturer, which have a VGA screen, here we have a 2.8" TFT QVGA touch display.
The keyboard's design fits the overall look of the phone. It resembles the slim RAZR, since its buttons are on a flat surface, separated, by slightly protruding lines. However, at first, we thought that those are pretty annoying (especially to the eyes), because they are brighter than the very buttons. Aside from that, the frequently used space key is quite small. How user-friendly is the keyboard and the level of comfort it provides when writing, we will test and discuss in detail in our full review. Expect it soon!