HTC details its Car Kit accessory in a new marketing video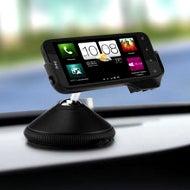 HTC keeps on churning out promo videos of its new accessory range today, and after the
HTC Media Link HD
next in line is the
HTC Car Kit
cradle, for about $55, a demo of which you can see below. It automatically fires up the HTC Car app when you put the phone in the dock, calling the fat, easy to view and press icons mode on the screen.
The staples while driving, like navigation or your phone book are taking the centerstage here, and there is a number of easily accessible entertainment options, like the ability to search for music from over 6, 000 streaming music stations in 170 countries.
HTC Car Mic
boxy thingy, going for around $60, which you can clip to your visor for serving as Bluetooth microphone and speaker, helping you avoid those talk and drive fines.
HTC Car StereoClip
, at about $70, which plugs into your standard audio jack to receive music from your phone wirelessly, and pump it out through the car speakers.
What do you think, any of those tickle your fancy?