HTC acknowledges hardware Wi-Fi issue on One X
48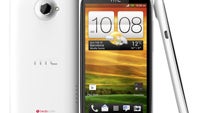 While the HTC One X was recently privy to a software update that was purported to
improve Wi-Fi connectivity and throughput
on the device, some users continued to insist that there is a hardware issue with some HTC One Xs. They have said that squeezing the device in a particular place would result in an improved Wi-Fi connection.
In a statement to AndroidCentral, HTC Europe has confirmed that there is something up with the HTC One X's Wi-Fi antennae.
"
After investigating isolated reports of WiFi connectivity issues in the HTC One X, we have identified a fix that strengthens the area of the phone around the WiFi antennae connection points
," the company said. "
While many customers have not experienced any problems with signal strength, we have taken immediate steps to implement a solution in our production process to prevent this issue from happening in the future. HTC is committed to making sure every customer has a great experience and we apologize for any inconvenience this issue may have caused while we conducted a thorough investigation.
"
While it sounds like devices manufactured from here on out won't have any issues, it's not exactly clear how widespread this issue is or how HTC plans to address customers with older units.