HTC Vivid will be getting Beats Audio support with its upcoming Android 4.0 ICS update
4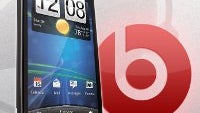 Frankly,
HTC Vivid
owners shouldn't be surprised that their device is now perceived as yesterday's thing, especially now the
HTC One X is all official
. Nonetheless, there's still some exciting news headed to those HTC Vivid owners that are locked into the device for the next couple of years.
AT&T mentions that its first HTC smartphone to feature 4G LTE connectivity, the Vivid, will be getting a nice new
software update in the coming weeks
that will enhance its audio experience. In fact, the update intends to provide the necessary
Beats Audio profiles
. Meaning, HTC Vivid owners don't need to fret now that the HTC One X is coming in the near future.
Well, there's simply just one more thing. This upcoming software update will actually transform the Gingerbread device into a snazzy new
Android 4.0 Ice Cream Sandwich
powered one, and oh yeah, did we mention it'll be flauntingan "
updated Sense experience
"as well? Not a bad gift at all we have to admit, namely because it merely adds some additional life to this already established smartphone.
Heck, this update might be out even before the HTC One X launches, so yeah, that should bring great news to those who decided to pick up the HTC Vivid already. You have to wonder, those sound engineers at Beats and software engineers at HTC must've been working round the clock to make this a reality, but nonetheless, handset owners will surely be appreciative by all of their diligent work in quickly making it happen.
source: AT&T