HTC Pyramid getting ready for April 12th launch, renamed HTC Sensation for UK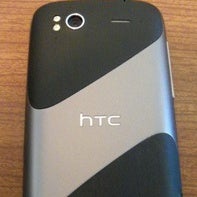 We've been hearing about the HTC Pyramid for quite a while, butwhat about an official announcement? Now we know that it's coming upon April 12th as British blog Pocket Lint confirmed aftertalking to informed sources. That's no surprise as April 12th is the date of HTC's press conference in London. The Pyramid will also get a brandnew name for its UK launch – the HTC Sensation. You wouldn't seethat coming from the company developing HTC Sense, would you?
The Sensation is expected with a mighty1.2GHz dual-core chip, a 4.3" screen and... HTC Sense skinning inits latest 3.0 variant on top of Android Gingerbread. All the specs come from the rumor mill, so take them with a grain of salt. Retailavailability dates are still an unknown, but we hope that in less than a week we'll have all the details. Do you sense anychance of this becoming your next handset? Sound off in the commentsbelow!
source: Pocket-lint