HTC Mini+ Bluetooth handset doubles as IR remote, now on pre-order in the UK
1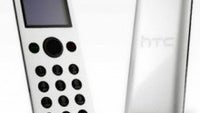 Soon after pre-orders for the
HTC Fetch tracking device
went live, another peculiar HTC accessory appeared on Clove's online store. This time we're dealing with a rather unusual Bluetooth headset offering more than just the ability to make phone calls.
Known as the HTC Mini+ handset, it is
meant to serve as a multimedia remote control as well
, capable of controlling a TV or the
HTC Media Link HD
via its built-in infrared beamer. There's a screen on its front where specific information can be displayed when the device is paired with a smartphone – information like the user's calendar and recent call logs. Using the Mini+, one can trigger the camera shutter remotely, which is a feature that may come in handy in some trickier photo situations. The accessory connects to a smartphone via NFC and/or Bluetooth.
The HTC Mini+ is available for pre-order via Clove and anyone who wants to get one will have to part with £64.99 (about $100). Details about the device's estimated shipping date are to be announced at a later date.