Google updates Maps for Android to 4.4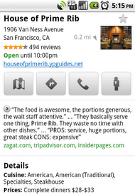 With 6 updates in 6 months, Google has really been pushing the envelope when it comes to its Maps application. Today, Google has announced an update for Google Maps for Android to version 4.4. The new build adds a "Places" icon to your app launcher. Click on it to learn about local businesses including restaurants, shoe stores, gas stations and book stores to name just a few. Use the search bar on top to type in or vocalize a request to a local place of business.
For example, let's say you want to find a restaurant in your city. You press on the "Places" icon and drag it to your home page. You will find a list of restaurants in your area and then narrow down the choices by using the Place Pages to read more about each eatery, just like on your PC at home. The Places Pages have been improved to show parking, menu links, opening hours, Compass direction and distance to go along with the usual reviews and pictures. Google Maps for Android is available for those handsets running Android 1.6 or higher and can be installed for free from the Android Market or from the source link. BlackBerry users should click on m.google.com/maps from their BlackBerry browser to get the Place Page and search results update.
source:
Google