Google scores judicial victories against Oracle's Android lawsuit
3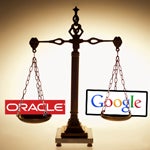 Google is having a streak of small victories en route to their showdown with Oracle, who is
suing Google
for alleged
patent
and
copyright
violations over the Java implementation in Android. Last week the U.S. patent office
invalidate one of the patents
that Oracle is asserting against Google (Oracle can still appeal the ruling), and today the presiding judge in Oracles Android lawsuit has outlined a timeline and trial structure much closer to what Google asked for than what Oracle was requesting.
Oracle wanted the lawsuit to happen as soon as possible. Their reasoning is simple – the longer it takes, the longer Google makes money without paying Oracle. A later trial date also provides Google with time to come up with work-arounds to Oracles patents, and allows Google to try and
secure patents
that they can use to counter sue with.
The trial was originally set for October 31st of last year, so clearly the whole "let's get this trial started soon" argument hasn't gone according to Oracle's plan. After early setbacks Oracle had hoped to get the trial underway in the first two months of 2012, but presiding Judge William Alsup has handed down his final pretrial plan, and it pushes off the start date to March 19th,
at the earliest
. Google had hoped for a trial date during the summer of 2012, but unless there is a substantial delay it looks like neither side will get everything they want in terms of timing.
A more clear-cut loss for Oracle is the announced trial structure, which more closely resembles the three-stage trial proposed by Google. In essence there will be three mini-trials in front of the same jury, first on the issues related to copyright, then on the issues related to patents, and finally to any remaining topics (including the
issue of damages
, in the event that Oracle wins one of the two initial parts of the trial). Oracle argued long and hard against this structure, as they want to introduce evidence of what they consider to be "willful infringement" during the first two phases of the trial, but such evidence will now have to wait until after the initial findings for or against Google.
Oracle and Google still have a small window to appeal the Judge's orders, but Google is unlikely to object, and Oracle already presented its case against the trial structure last year, to no apparent avail. Any appeal by Oracle would threaten to push back the trial date further, although it might make it easier to appeal an unfavorable ruling after the trial is over.
Just a couple days into 2012, and it appears the mobile patent wars will be in full swing. Sigh...
source:
FOSS Patents