U.S. Patent Office deals Oracle a setback in its Android lawsuit
7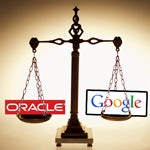 'Twas the night before Christmas (Eve), and all through Google's house, not a creature wasn't cheering, note even a mouse. The lawsuits were hung by the chimney with care, in hopes that the USPTO soon would be there…
Google got exactly what it wanted these holidays, as the U.S. Patent & Trademark Office ruled on Patent No. 6,192,476. The USPTO rejected 17 of the 21 claims on the '476 patent, including Claim 14, which was the part being asserted by Oracle against Google in their ongoing Android litigation.
Oracle is
asserting 26 different
claims against Google over its Android OS, including copyright and patent infringement, so this ruling will hardly make the lawsuit disappear. At the same time it will make winning on that particular claim very difficult, and also adds credence to Google's claims that the patents at issue are not valid (other patents are still being reviewed).
This is the second setback Oracle has faced this month, as earlier in December the presiding judge indicated he would likely throw out large parts of Oracle's damages report. The damages report is meant to help guide jurors as to the appropriate amount of damages to be awarded (assuming Oracle wins).
Oracle has six months to appeal the finding, but doing so could potentially lead to more delays in their lawsuit against Google, so it will be interesting to see what tact they take. We have all this and more to look forward to in the new year...
source:
Groklaw
via
AllThingsD