Google makes local ads more efficient with redesign of the Maps application in Android
5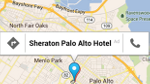 "In initial tests, these redesigned formats increased click-through rates by 100 percent."-Jay Akkad, Google product manager for mobile ads
Google has redesigned the Maps application in the Android OS to
raise the potential of advertisers to get business from Android users
. The new format gives Android users more boxes to click on with such directions as "click to call" and "get directions". These boxes will now be featured more prominently in the ad and users will also get to see with the use of a marker and a "hyperlocal" map, just how close they are to an advertising merchant. Additionally, the potential customer can now get to the merchant's website by simply click on the ad. Google's product manager for mobile ads, Jay Akkad, said that in tests the new format increased click-through rates by 100%
According to the Mountain View based tech titan,
million of people use Maps for Android daily
and so far has provided more than 50 billion kilometers of turn by turn directions. In May, Maps for Android 6.7 was released, allowing users to see location-specific daily deals from advertisers. According to Piper Jaffray's Gene Munster, Google is on a pace that would allow them to grab $4 billion in mobile ad revenue in 2012. In early June, in order for a million of its advertisers to reach mobile consumers, Google integrated the AdMob mobile ad network into AdWords. T-Mobile tested out the new format and with the use of mobile local extensions, was able to achieve a click through rate of 13%. The new reformatted ads begin on Monday.
source:
Google
via
FierceMobile
Recommended Stories