Google is thinking about changing the name of the Google Feed to Discover
2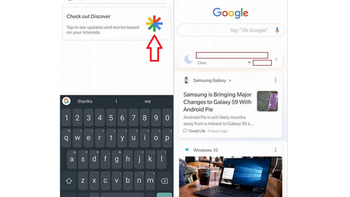 The Google Feed, found by tapping on the Google app or by swiping the home screen on your Android phone from left to right, provides users with the local weather and news that Google's algorithms believe you'd be interested in. Apparently, Google is beta testing a new name for the feed, Discover. Images from the beta test reveal a new rainbow asterisk that will apparently be Discover's logo. Additionally, strings of code discovered by XDA referenced the Discover name.

While it is obvious that Google is testing out this rebranding, there is no guarantee that they will decide to change the name of the Google Feed. Right now, we'd imagine that Google is looking at feedback and data from this A/B test to see whether Android users respond more to the feed if it is called Discover. Those receiving the beta test receive a prompt that reads "Check out Discover. Tap to see updates and stories based on your interests." Two different versions of the bottom bar have appeared during the testing. One shows the rainbow asterisk and the other shows the asterisk with the name Discover underneath it.
Google has been trying to find a good name for the feature and was calling it Google Now until last year. In 2017, the Google Feed moniker was used, and remains the name until Google decides whether or not to make the switch to Discover. Check out some of the images grabbed by those who have received the beta test at the top of this article, and directly below.