Google Sheets update adds support for mouse and rotated text
1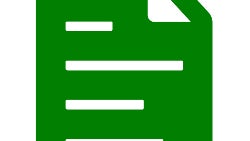 Google announced its
Sheets app
for Android and iOS devices had been updated with a couple of new features and improvements. Some of the changes are available on both platforms, while others are exclusive to one of them.
One of the most important new features is the ability to rotate text, which allows users to fit long header names into thin columns or fit more text on a single screen. The new option is available in Sheets by heading to Format / Text rotation.
Also, the latest update introduces accounting number formats, which enables
Sheets users
to read budgets, expense reports, as well as other spreadsheets featuring monetary amounts much easier. You can access this feature from within the app at Format / Number / Accounting.
Google also confirmed support for using a mouse with the Sheets for Android has been implemented too, as well as the ability to view and select existing custom colors in the app.
iOS users got some love too, as Google added the ability to drag and drop rows and columns in the Sheets for the iOS app. This feature is available for Android users as well. Furthermore, formatting suggestions in Explore are now available for Sheets users on iOS devices.
Last but not least, the new update allows Sheets users to choose from more border styles, including various thickness and double borders.