Google Docs and Sheets snag several new features with the latest update
3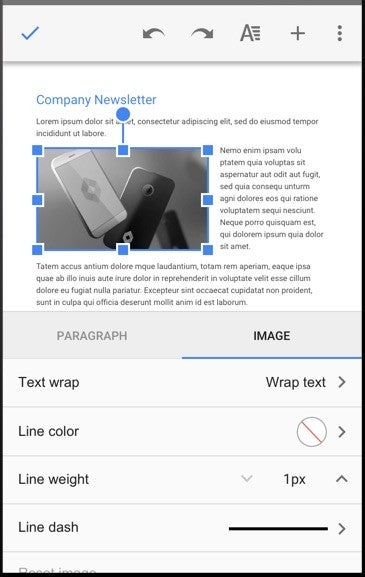 Resize images in Google Docs
Both
Docs and Sheets
apps for Android and iOS have been recently updated by Google. The former got a couple of new features, while Sheets has only been updated on iOS platform.
If you own an Android device, then Google Docs now allows you to insert and edit headers and footers, as well as drag and drop texts. Also, you can now resize, move, and rotate images in Docs, as well as change their text wrapping and border styles.
For iOS users, Google added the option to insert headers and footers in
Docs
, but also the possibility to insert page numbers in these headers and footers. Moreover, iOS users can change a page's size, orientation, and color in Docs.
The only change that Google made to the Sheets application allows iOS users to insert and edit solid, dashed, and dotted borders.
Google confirmed that the new updates for Android and iOS versions of
Docs and Sheets
have already been released in the Google Play and App Store, respectively, so make sure to download them in order to benefit from the new improvements.