Google Pixel 3 and Pixel 3 XL size comparison vs Galaxy Note 9, S9, S9+, iPhone XS, XS Max, OnePlus 6T
4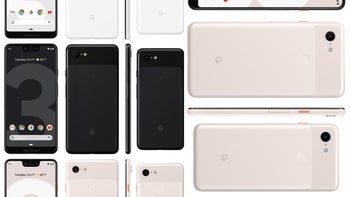 Although it's been leaking around like a broken jug for months now, the third generation of Google's Pixel devices became officially-official just a while ago.

Now, from a design standpoint, Google hasn't really went all overboard with its new Pixels. The regular Pixel 3 hasn't jumped on the bezel-less train that seemingly everyone is riding already and has a more traditional design, whereas the Pixel 3 XL employs a more modern aesthetic that quickly riled up lots of controversy due to the excessively deep notch at the front.
Surely, the Pixel 3 XL is not a stunner as far as aesthetics are concerned, but it surely not that much harder to use than, say, a Pixel 2 XL or an iPhone XS Max. But how does the smaller Pixel 3 stack up against its more compact competitors, and in the meantime, how does the large Pixel fare up against the high-end rivals at hand?
Our nifty size comparison tool is here to answer all those questions, and without further ado, let's take a look at a Pixel 3 size comparison against some of its rivals.
Pixel 3 size comparison
Pixel 3 XL size comparison
Next up, we have the large Pixel 3 XL, which is a bit more imposing due to its 6.4" display. Here's how it compares against some of its most important rivals, the trove of Galaxies, iPhones, and other Android troopers around.