Google Offers app for Android goes live, no NFC chip required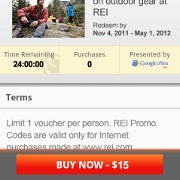 Now we know that there are some deal junkies out there, us including, so having
Google Offers
in the form and convenience of an app is just what the doctor ordered.
The app is done in the new Android ICS style with blue highlights when switching tabs, and offers the same functionality that the web beta version of Google Offers does, including a virtual tour of the premises where you are going to eat those $10 worth of pancakes for $5.
The app is only available in the US for now, so if you want to go all Slick Deals outside of good ol' USA, tough noogies.
source:
Google