Google Keep gets time and location reminders like Google Now
2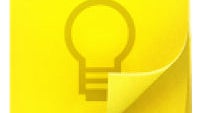 One of the more recent updates to Google Now brought options to
set reminders
based on a set time or location, which has been a nice addition for voice commands, but it hasn't had a good way to really organize and control your reminders. That's where the new Google Keep update is coming in, because the app has added time and location-based reminders and more.
The option will be found at the bottom of the note creation page, and since this is Google, the locations will auto-suggest places nearby when you start typing. You can add a time or location-based action for any note you take. And, when the time (or place) comes, the reminder will pop up in the notification tray on your Android device. If you don't have the time to take care of whatever it is, you can delay the reminder for an hour, or reset the time to a later date.
The app has also made it easier to switch between multiple accounts using the left-side navigation drawer, in case you want to keep notes separated. Also, it has been made easier to add photos to a note.
The update has already hit the web and the Chrome app, but it is rolling out to Android, and we haven't seen it hit our devices just yet. It should be coming soon though.
Recommended Stories