Voice search improvements, new cards, and reminders in Google Now, update already live
3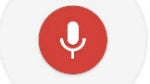 A few minutes before the actual announcement, our Nexus 4 popped up a notification of an update to the Google Search app. The "what's new" section didn't have any actual info of what to expect in the update, but the news has been announced in Google's keynote. Conversational search is coming to desktops with question and answer just like Google Now, but our focus is mobile, and for that Google Now is getting voice search improvements, new cards, and reminders.
There wasn't a lot of information about most of the new cards that are coming to Google Now. There will be a new navigation card that focuses specifically on public transit for those without a car, and there will soon be cards that give "more information" about music, books, TV shows, and video games, but it's unclear exactly what information will be included, but we've already gotten a recommendation in Now for a Neil Gaiman book, which we assume is because we pre-ordered his new book from the Play Store, so we'd expect more recommendations based on Play Store purchases.
The big addition is an updated reminder action. Before, you had to choose between setting an alarm or creating a calendar event, but now Google provides proper reminders to voice actions. Once you get the update, you'll be able to ask to set a reminder that will be triggered either at a specific time or in a specific location. The reminder will show in your Google Now cards, and pop up when appropriate.
Google Now is also getting more voice search options including more information in the knowledge graph, so you can ask a wider range of questions. And, it is getting easier to get at your own data. For example, instead of using the keyword search "My Flights" to see your upcoming flight info, you can ask "What time is my flight to San Francisco?" or if you want to see photos you took in a certain location, you can command "Show my my photos from Jamaica."
source: Google