Google Docs update lets users view word count while typing
0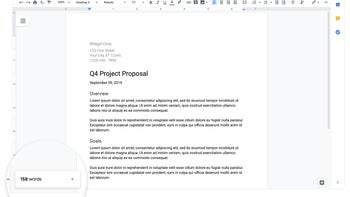 Google recently
announced
Docs will get an important new feature in the coming weeks, which will allow users to see the exact number of words in a document. The so-called "word counter" will be available to all Docs users, not just G Suite customers, starting September 9.
However, since Google has opted for a gradual rollout, it will take up to 15 days for the new feature to be available to everyone using Docs, so don't be disappointed if you don't find it right away.
Once the update arrives, you will no longer have to go to
Tools / Word Count
each time you want to check the number of words in your document. Instead, you will now be able to select
Tools / Word count / Display word count while typing
.
That way, the number of words will be displayed in the lower-left corner of your document at all times, even while you're typing. On top of that, you can view more helpful information when you click on the word count box, like the page count, character count (with and without spaces). You can even see the word count of a specific section of text if you highlight that section in your doc.
Keep in mind that you don't have to enable the new feature once you update to the newest version of Docs, but you can disable it by going to
Tools / Word Count / Display word count while typing
in Google Docs.