Gingerbread update is coming in October for UK versions of the LG Optimus 3D
0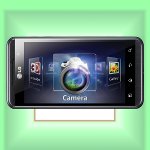 Even right now, it's still rather unbelievable at times to see newer Android powered smartphones coming to market with Froyo on board as opposed to Gingerbread – especially when the latter first came rolling onto the scene back in December. Well, that's exactly what we're seeing with the
LG Optimus 3D
right now over in Europe.
Although it's still a while away, current
UK owners
of the 3D equipped handset can expect to see the
Gingerbread
update arriving some time in
October
– though, we're not certain when other markets will see it. Despite giving us a general time frame, it's nevertheless good news from LG that will ease some worries for some people. Still, that means UK handset owners of the LG Optimus 3D will need to wait out at least another 2.5 solid months before seeing the update, which is pretty rough considering it can appear to be longer mainly due to the grueling heat of the summer.
On top of it all, it might leave some with a sour taste in their mouths knowing that we will be expecting to see the first Ice Cream Sandwich powered device by then.
via
Unwired View
&
Mobileburn