Sony Ericsson Xperia Play Hands-on
13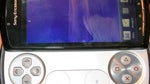 Well, fellow gamers, we've waited so long for it, and Sony Ericsson has finally replied to our wishes by introducing the
Sony Ericsson Xperia Play
– a true PlayStation phone for us enthusiastic hack-and-slashers.
The Sony Ericsson Xperia Play actually has the honor of being the very first
PlayStation Certified handset
(more on that in our
article about PlayStation Suite
). This is what actually enables it to run all those PS one classics that will be made available by Sony Ericssson, as well as the specific games that will be developed for all PlayStation Certified devices.
We'd like to deal with all possible confusion here and say that you
won't be able to play actual PS games
on the Xperia Play, and nor will you be able to hook it to a TV and enjoy a full-featured PlayStation experience in a way. With that said, we're pretty confident that the Sony Ericsson Xperia Play has the potential to become a great portable gaming device. And here's why...
What makes the Xperia Play so gaming-centric is of course its
gamepad
, which slides out in landscape position. And the most important thing for every gamepad is of course just how comfortable it is for prolonged gaming. Naturally, we can't make statements in this regard yet, but from what we saw (and felt), it looks like Sony Ericsson has done a magnificent job with the design of the controls.
First of all, the main
d-pad
is nicely-sized, with its keys having a decent click to them. The analog pads also seem to be working fine. We've got to tell you, folks, we're really in love with the action keys on the sides of the Sony Ericsson Xperia Play. You can make no mistake whether you've pressed a key or not, because of their
pronounced clicking feel
, while at the same time they do not require too much force to be pressed, meaning that we won't tire our finger when bashing those zombies.
Now, let's see what the company has in store for us when it comes to games! First before most, the titles that we saw demoed had really fine graphics, however, some of them were a bit laggy, which is due to the prototype nature of the units available here though. At launch, all such issues should be fixed and all titles should run just fine, at about 60 frames per second. Sweet! Yesterday we heard that the Sony Ericsson Xperia Play will come with one preloaded PS one classic, with speculations hinting it might be Crash Bandicoot. Thankfully, today we know that games for PS Certified handsets will not be significantly more expensive than typical Android titles, and should be available for about $5-$10 (50 titles should be available at launch). In terms of quality, we'd not make conclusions yet whether or not the Xperia Play games will be better than what we already experience with the Apple iPhone 4, but we can confidently say that they will be much more comfortable to control.
The first specialized Android gaming phone will hit the shelves in
March
, possibly as a GSM reincarnation in Europe first, and then in the Spring the CDMA version will be brought to the American shores by Verizon, as we
heard
before.