Galaxy S4 with TouchWiz or Galaxy S4 Google Edition - which one do you prefer?
81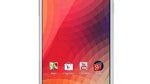 The beloved
Samsung Galaxy S4
with pure Google is finally here, and while that's obviously a great piece of news for geeky part of society, it also brings up the question of whether users would actually rush at the Galaxy S4 Google Edition as if it's the Holy Grail of smartphones.
In our opinion, the stock Android Jelly Bean version found on the Galaxy S4 Google Edition certainly has its benefits. For starters, it's got an arguably more refined user experience, with a better system performance and lack of unnecessary features and options. It's also much more consistent, as Samsung's TouchWiz Nature UX is a bit of a mixed bag.
On the other hand, we can't deny the appeal of some of Samsung's custom features such as the various camera modes and the Smart Stay function. Decisions, decisions...
What do you think, folks - should the millions of Galaxy S4 owners regret buying the phone early when they could have waited and gotten the S4 Google Edition instead? Go ahead and cast your geeky votes in the poll below! Also, feel free to back yourselves up by posting comments under the post. As always, let us all have a peaceful and civilized discussion!
Recommended Stories